The November book club pick was The Sweet By and By by Sara Evans and Rachel Hauck. Participants read the novel and chose one or more discussion questions from the back of the book to address in a blog post. This month's host is Juju from Tales of Whimsy. To join our discussion, link up your post at her website.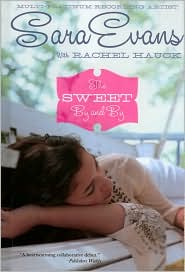 Short Review:
I'm not usually a women's fiction fan, but I am a huge Rachel Hauck fan and her collaboration with Sara Evans did not let me down. Like her other stories, this book was filled with her signature multi-layered characters.
Beryl is an aging hippie trying to reconnect with her estranged daughter Jade. Unfortunately, Jade carries a lot of bitterness and anger toward her mother. As the authors deftly reveal her hurts to us one layer at a time, we ache over her past but cheer her on as she finally learns to release the pain.
This is ultimately a feel good story about a woman who discovers God's love for her runs deeper than the wounds on her soul. It had just enough romance mixed with the drama to satisfy this die hard romantic.
Need more info? Here's the publisher's description:
Jade Fitzgerald left the pain of her past in the dust when she headed out for college a decade ago. Now she's thriving in her career and glowing in the light of Max Benson's love.

But then Jade's hippie mother, Beryl Hill, arrives in Whisper Hollow, Tennessee, for Jade's wedding along with Willow, her wild younger sister. Their arrival forces Jade to throw open the dark closets of her past--the insecurity of living with a restless, wandering mother, the silence of her absent father, and the heart-ripping pain of first-love's rejection.

Turns out Beryl has a secret of her own. She needs reconciliation with her oldest daughter before illness takes her life. In the final days leading to the wedding, Jade meets the One who shows her that the past has no hold on her future. With a little grace, they'll meet in the middle, maybe even before that sweet by and by.
My rating:
Warning: This post continues with a frank discussion of the book and includes spoilers.
Discussion Question:
Why does Harlan show up at the wedding? What do you think of Jade's response?
I chose this question because the scene where Jade's father shows up at her wedding was the scene in this book that surprised me the most. It was no surprise that Harlan came (he'd felt God's tug in that direction for a while), but Jade's reaction to him completely shocked me.
This man abandoned her at eight years old, and instead of treating him with wariness or anger like she did with her mom, she fell into his arms and sobbed, "You came for me, I knew you would, I knew you would."
I had no idea that Jade harbored that secret hope in her heart this whole time. I believed she'd given up on him a long time ago. Jade kept a lot of secrets in this novel but that was one she kept from the reader (and maybe even from herself) right up until that moment.
I was surprised, but not in a "that doesn't fit with her character" kind of way. No, it made total sense to me and it just showed how deep old wounds can go. I cried at that point because it seemed God worked things out to give her the desires of her heart.
Further thoughts for discussion:
Recently, Amy Riley of
My Friend Amy
asked on her blog if there were any books where the main character considers Christianity but ultimately rejects the faith. Mike Duran followed it with a
post of his own
on the subject, wondering why we don't see more faith rejection in Christian fiction. They asked for examples of stories like that. I never responded because I couldn't think of any.
Honestly, I wasn't even sure I wanted to read a book where a main character rejects the faith. I thought it would leave me without a sense of closure. And as a romance fan, I do love my happily ever afters.
But in this novel, Beryl (the aging hippie) is not a believer. And neither is her other daughter Willow. I actually found myself hoping that she
wouldn't
have a conversion experience during the story. It would just make the ending too tidy. Maybe the authors thought so too, because the book ended without her choosing to believe.
(Note to Sara Evans and Rachel Hauck: I am not opposed to Beryl converting in a sequel- hint, hint).
So what do you think? Did it bother you that Beryl didn't have her come to Jesus moment before the end of the story?

I found a neat video on YouTube of Sara Evans discussing the characters in this book and its sequel: