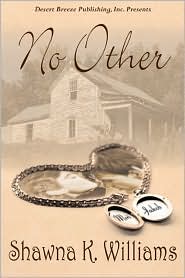 In general, I don't buy stories set around WWII. That time period never seems to connect with me. But when I saw
No Other
advertised at a price I couldn't resist, coupled with the fact that I've "met" the author online and found her as sweet as can be, I decided to give this one a chance.
I don't know what I was expecting. But I certainly wasn't expecting to like this book as much as I did. It was a
very
pleasant surprise. I knew in advance that
No Other
was considered edgy christian fiction, but still the actions of the main characters surprised me (and surprising this reader is a good thing!)
The climax of the story was extremely well done- the antagonists were some of my favorite characters. They were really nasty people that I enjoyed hating, well drawn by the author. The book wraps up 99.5% of its story lines, but that one half of a percent is left for the sequel which I will be sure to buy. Shawna Williams is on my to read list from now on, whether she's writing about WWII or not.
Want more information? Here's the product description:
In the aftermath of WWII all Jakob Wilheimer wants is to get over his pain, get on with life, and if at all possible, forgive those who've wronged his family -- including himself. But it's hard to do when there are constant reminders. One of them being his former schoolmate, now teacher, Meri Parker -- Miss Port Delamar Pearl, Mayor's daughter, Belle of the town -- Meri Parker.

After enduring the stigma and isolation associated with the internment camp, the awkwardness of going back to school should've been a cake walk. But Jakob didn't expect to find himself inexplicably drawn to Meri. Or to discover that the pain and loneliness of her life surpassed his own. She needed to be rescued from the wretched people seeking to control her life. And more than anything, he needed to be the one to save her.
My Rating:
Did you miss Shawna's visit to Edgy Inspirational Romance? Check it out here.