Let me break it down for the beginners out there.
If romance were a summer drink,
bonnet books
and
Christian category
would be sweet tea. Edgy inspirationals would be unsweetened with a slice of lemon. And mainstream romance would be a Long Island iced tea.

Don't worry, I'll elaborate. But before we get started, there are a few things you need to know:

I use the words

Christian

and

inspirational

interchangeably (but only when talking about books).
I don't bash sweet inspirationals to promote edgy Christian fiction. My bookshelf is big enough for 'em all. If it starts with

ro

and ends with

mance

, I'm probably gonna love it.
I'm not an expert. I'm not the guru. I'm not the definition diva. I'm just a fan obsessed enough with this sub-genre to start blogging about it.
Here is what I've come to expect from an edgy inspirational romance:
1. An edgy inspirational romance will have characters who struggle with temptation.
The type of temptation they struggle with is as varied as the ones we struggle with everyday. But sexual sin of some kind, or lust, is not uncommon to find in this sub-genre.
2. An edgy inspirational romance is not afraid to mention body parts.
You might find a butt or a breast (and in case you're wondering, I mean the words, not actual pictures).
3. An edgy inspirational romance might deal with gritty topics like divorce, abuse, alcoholism, or prostitution.


No worries. Since this is a romance, we'll always get our happily ever after.
4. Edgy inspirational romances are about three way relationships
.
But not the kind of three ways you'd find in a Harlequin Spice.
The three way in this scenario means God, the hero, and the heroine.
Despite edgy subject matter, these are books written from a Christian worldview and contain a message of faith. The messages range from subtle to overt depending on the author.
5. An edgy inspirational romance does not glorify sin.
This is really the most important point. In my opinion, if the sin portrayed in an edgy book makes the reader aspire to engage in it, than the book is not inspirational.
6. For every point I mentioned above, there's probably an exception to the rule.
Which brings me right back to where I started. I am not the guru, I am not the expert. I am not the definition diva.
So as we kick off our Edgy Christian Fiction Summer Blog Tour, I guess the only question left to ask is
how do like your tea
?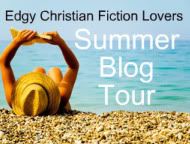 Want to wade into this sub-genre? Here are some of my favorites to get you started:
Redeeming Love by Francine Rivers
A Bride Most Begrudging by Deeanne Gist
A Passion Most Pure by Julie Lessman

Don't miss the next stop on our blog tour! Wednesday, Dan Calabrese writes about spiritual warfare in the edgy Christian novel.