These are two books I can't wait to get my grubby little hands on:

A Hope Undaunted
by Julie Lessman.
Baker Publishing Group
Publication date: 9/1/2010
Synopsis from Barnes & N
oble:
The 1920s are drawing to a close, and feisty Katie O'Connor is the epitome of the new woman—smart and sassy with goals for her future that include the perfect husband and a challenging career in law. Her boyfriend Jake fits all of her criteria for a husband—good-looking, well-connected, wealthy, and head-over-heels in love with her. But when she is forced to spend the summer of 1929 with Luke McGee, the bane of her childhood existence, Katie comes face to face with a choice. Will she follow her well-laid plans to marry Jake? Or will she fall for the man she swore to despise forever?
A Hope Undaunted is the engrossing first book in the WINDS OF CHANGE series from popular author Julie Lessman. Readers will thrill at the highly charged romance in this passionate story.
(I'm so excited! Julie Lessman will be here August 11 for a stalking on Outside the Author's Studio. She's also giving away one of her books!)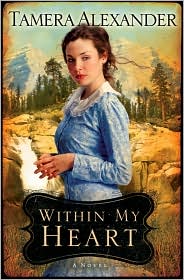 Within My Heart
by Tamera Alexander
Baker Publishing Group
Publication date: 9/1/2010
Synopsis from Barnes & Noble:
Widow Rachel Boyd struggles to keep her ranch afloat and provide for her two young sons, though some days it feels as though her efforts are sabotaged at every turn. When her cattle come down with disease and her sons' lives are endangered, she must turn to Rand Brookston, Timber Ridge's physician and reluctant veterinarian. While Rachel appreciates his help, she squelches any feelings she might have for Rand—her own father was a doctor and his patients always took priority over his family. Rachel refuses to repeat the mistakes her mother made. But when she's courted by a wealthy client of the local resort, she faces a choice: self-sufficiency and security or the risk inherent in the deepest of loves.
What books are on
your
wish list this week? Head over to
Book Chick City
to share!