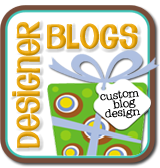 In honor of my blog launch, I'm excited to announce a special giveaway from
DesignerBlogs.com
.
Lauren at Designer Blogs turned Edgy Inspirational Romance into a website where I'd be proud to invite my friends. She listened to what I wanted, handled my nit picky requests with the patience of a kindergarten teacher, and turned this puppy out in record time.
Now, here is your chance to get a taste of what they can do. I'm giving away a custom designed blog button and share code. Or, if you'd prefer, you can apply the value of a custom designed blog button ($15) toward the design service of your choice.
In order to enter:
1. You need to follow me publicly.
2. You need to post my blog button on your website.
3. You need to leave a comment to let me know you've followed the directions.
Only people who've completed all three steps will be eligible for the giveaway. If you'd like to earn a second entry, blog about this contest on your website and make sure to tell me about it!
After I verify entrants have met the requirements, I'll assign raffle numbers in the comment section. The winner will be chosen June 16 by Random.org. I reserve the right to extend the contest if I have less than ten qualified entrants.
Don't forget, I am still running a
giveaway
for Deeanne Gist's book
A Bride Most Begrudging
, and the only requirement for that contest is to become a follower. I'll announce the winner Saturday.